Embrace Fall with Weatherproof Outdoor TVs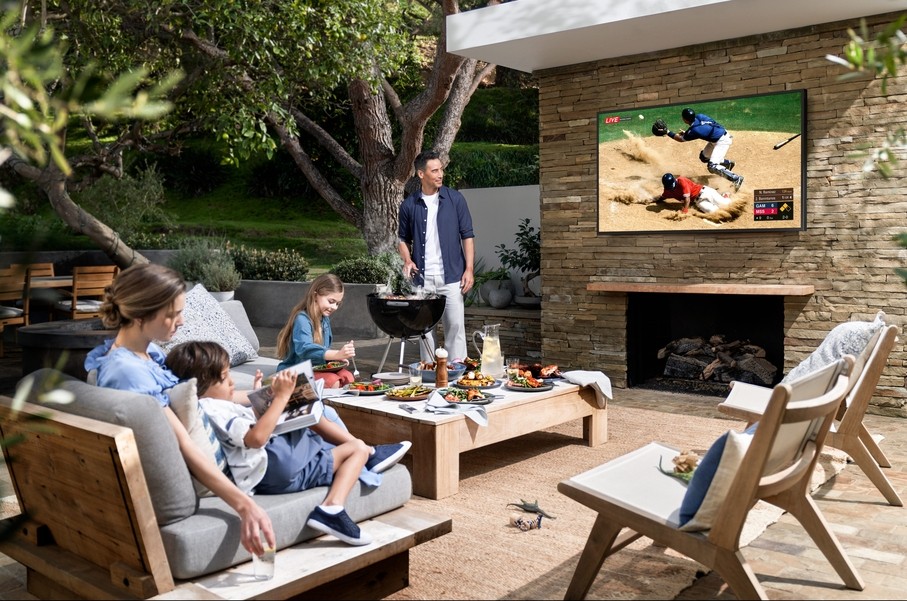 A Guide to Outdoor Entertainment in Florida
Fall in South Florida is a season of opportunity. The mild temperatures and beautiful sunsets make it the perfect time to embrace the outdoors. Luxury homeowners with spacious outdoor areas have a unique chance to transform these spaces into an entertainment haven. Imagine watching your favorite football games or hosting movie nights under the stars while enjoying the gentle Florida breeze. This dream can become a reality with the right weatherproof outdoor TV and professional installation. Here's how to make the most of Florida's beautiful fall season.
SEE MORE: Meet Samsung's New Outdoor TV: The Terrace
Introduction to Outdoor TV Technology
Outdoor TVs have evolved from a luxury item to an essential part of modern outdoor living. Leading the way in this transformation are products like the Samsung Terrace, offering innovative features such as weatherproofing and anti-glare technology. Designed for outdoor use, these televisions withstand rain, humidity, extreme temperatures, and the bright Florida sun, ensuring your investment remains protected for years.
With 4K UHD resolution, QLED technology, and brightness almost three times that of indoor TVs, the viewing experience isn't sacrificed. The Terrace delivers vibrant colors and crisp images no matter what you are watching. Imagine turning your outdoor space into a high-end home theater or tailgate destination, no matter how bright the sun is.
The Benefits of Professional Outdoor TV Installation
A professional installation is about more than mounting the TV. Experts assess your outdoor space, recommend the best location, and provide proper installation. They take care of concealing cables and integrating the television with outdoor speakers and other smart home technology, so it's easy to pull up the content you want. Professional installation guarantees your outdoor TV is perfectly positioned for maximum enjoyment and that you have the right model, depending on whether you're watching in the partial sun or full sun.
Creating the Perfect Outdoor Entertainment Space
For optimal entertainment, though, you need to look beyond your televisions and speakers. Comfortable seating with plush, weather-resistant furniture sets the stage for relaxation. Enhance the experience with a bar or outdoor kitchen that adds convenience and luxury. And for those rare cool days in the winter, a fire pit or outdoor heater lets you use the area when the temperatures dip under sixty degrees.
Explore More Outdoor Living Ideas
For more inspiration and ideas, visit our Outdoor Living section. From outdoor kitchens to smart lighting, we outline everything you need to create the ultimate outdoor destination. Preparing your outdoor space for fall is an exciting opportunity to embrace technology and luxury. With a weatherproof outdoor television like the Samsung Terrace and professional installation, you can create a space that's not just beautiful but functional.
Ready to transform your outdoor space with weatherproof TVs? Our team of experts is here to help you create the perfect outdoor entertainment area tailored to your needs. Call us today or fill out our contact form for more information. Your dream outdoor space is just a call or click away!