Take the Super Bowl to the Patio with Outdoor Entertainment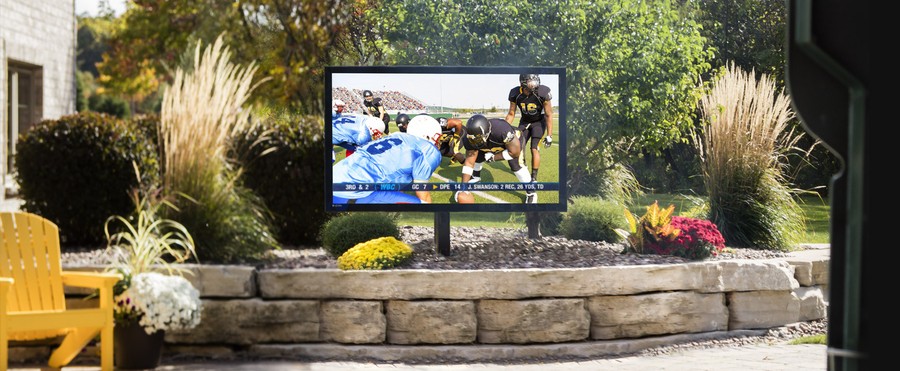 Weatherproof Speakers & Screens to Watch the Game Under the Stars
Here in Fort Lauderdale, FL, we're lucky to live with warm enough weather to enjoy the football season outdoors. Game days in the stadium are comfortable even in winter. So why not make the most of it? We don't have to worry about frostbite or shivering through the game.
With outdoor entertainment, you can invite friends and family to celebrate the Super Bowl under the sunset and stars. And we're not talking about portable speakers you carry outside then bring back indoors. Outdoor AV is durable enough to stay mounted outside through all weather, all year long.
Continue reading to see our top picks for outdoor displays and speakers!
SEE ALSO: Compelling Reasons to Enhance Your Outdoor Entertainment Experience
Séura Outdoor TVs
Outdoor televisions not only need to be resistant to water and extreme temperatures, but they need to be bright enough to see clearly in the sun. Have you ever looked at your phone at the beach? Then you know most screens are simply not bright enough to see well outside!
But Séura has long been a pioneer in outdoor entertainment. Its Full Shade and Full Sun Series are built for either shaded or sunny environments. The Full Sun display shines bright at 2000 nits. For context, most indoor TVs are only about 450-500 nits! Séura's outdoor screens work so well; you can see them used at Universal Orlando Resort and sports stadiums across the country!
Samsung's The Terrace
If you're a Samsung fan, they've recently released their own outdoor television, The Terrace. The Terrace is also available in Full Sun or Partial Sun models, both in spectacular QLED 4K with anti-glare technology. The Terrace doesn't offer as many size options compared to Séura, but its outdoor performance is stunning.
Coastal Source Weatherproof Audio
Seeing the game is only half the equation—you'll need outdoor audio, too! Coastal Source manufactures high-quality speakers built to endure all weather year-round. A series of outdoor speakers can ensure everyone hears the game clearly without requiring you to crank the volume. Choose from Coastal Source's upright Bollard speakers, small bullet speakers, and partial burial subwoofer to bring powerful sound to the game.
With an outdoor display, audio, and a system to connect them all, you can turn on your outdoor theater with one press of a button. Friends and family will love coming to your house, especially for game days and the upcoming Super Bowl. Imagine burgers on the grill, swimming in the pool, and the halftime show playing right in your backyard.
Ready to bring outdoor entertainment to your Florida home? Connect with First Priority Audio to start your AV project today and ask us any questions. We look forward to working with you!