A Control4 Case Study Aboard a Luxury Yacht
Take a Look Inside Our Recent Work on a Florida Yacht Including a Yacht Stereo System, Lighting Control, and More
Control4 automation is usually associated with home control—but who says the home has to be on land?
Our home automation company, First Priority Audio, recently installed smart marine lighting, audio, and centralized control features on a luxury yacht. With a new yacht stereo system and lighting scene control, the owners of this magnificent boat will be able to transform the mood and entertain guests while out at sea.
Curious to see what's possible with automation aboard a luxury yacht? Get inspired by our case study in the Fort Lauderdale, FL, area.
SEE ALSO: 4 Tips to Make Outdoor Audio Sound Better
Yacht Lighting Control
This client already owned a Lutron lighting control system but wanted to switch to Control4 to manage lights alongside audio and other technologies. We installed Control4's contemporary wall keypads to work with the Lutron HomeWorks framework. Customized buttons include lighting scenes like "Morning," "Breakfast," and "Formal Dinner" that will transform the color and brightness of the boat's lights.
We also incorporated motorized shading to be controlled alongside lights with customized scene programming. The scene control on this yacht is unique because the crew can trigger scenes outside the cabin.
As for the boat's older, existing lighting fixtures, we set dimming limits to prevent flickering. The result? Uniform, beautiful lighting shines across the yacht in customizable settings.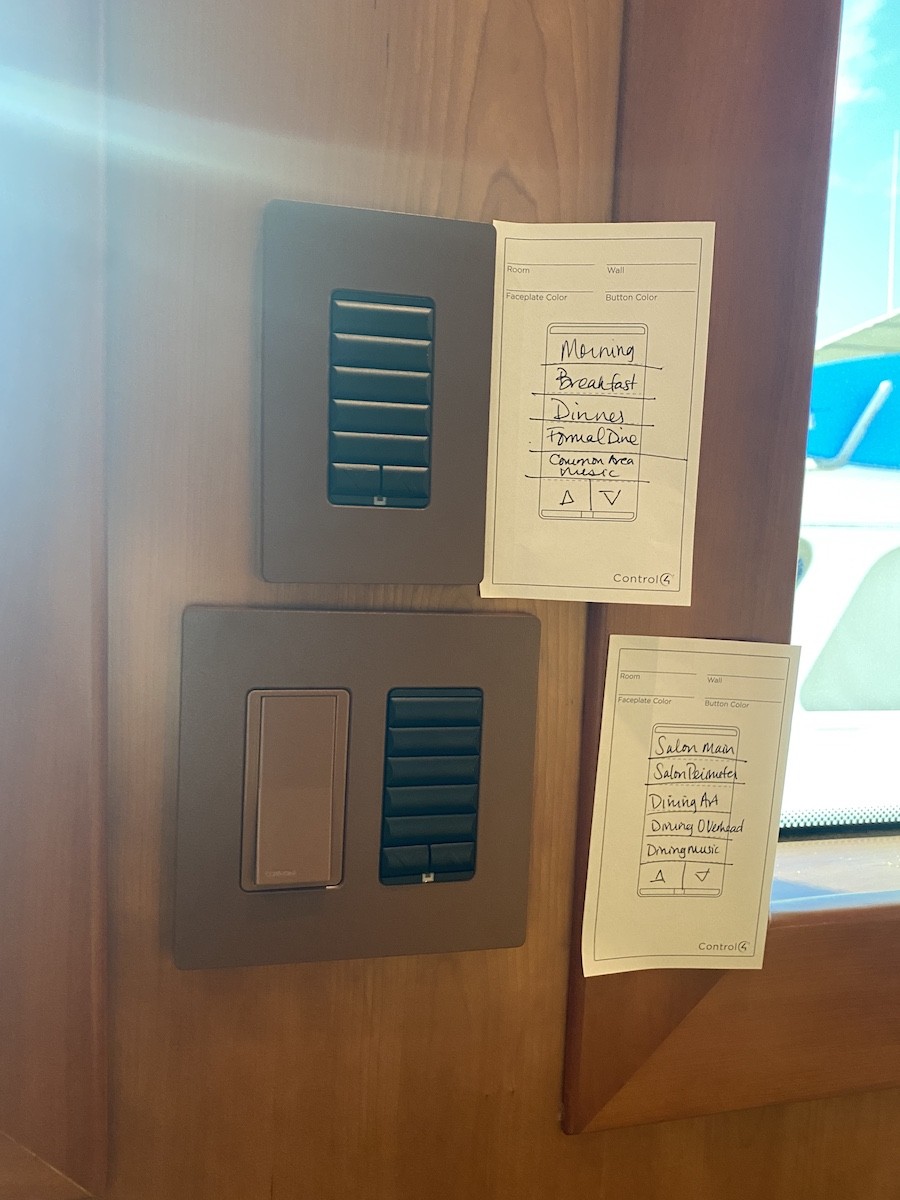 Yacht Stereo System
From summer playlists to TV audio, the yacht's owner can now enjoy media across the boat with their new yacht stereo system. In-ceiling cabin speakers and outdoor marine-grade speakers will play in unison and are easily controlled through the Control4 interface.
Engineering for Remote Access
To support the yacht's systems from anywhere in the world, our team engineered redundancies to enable remote support through Control4 and OvrC cloud management. We installed a mini-computer onboard to remotely control the system and troubleshoot any issues—even from many miles away. So in the future, if the client needs any changes or upgrades, we can accommodate them sooner by doing it remotely.
Customized Programming
This client had a few unique programming requests, like a timezone-oriented sensor for exterior lights. At the same time each day, no matter where the boat is located geographically, lights will turn on to illuminate the yacht's name board and perimeter. The new "Cruising" scene instantly turns off all interior lights (besides the VIP suite) to minimize glare as the boat glides across the water at night. We were able to customize all these unique scenes through the Control4 system, making it easier to achieve desired light settings.
If you own a yacht or boat and are interested in lighting control and stereo systems, First Priority Audio is here to help. We program and install marine automation systems in South Florida customized to your unique needs. Contact us here to learn more and get started today!