Audio That Looks as Good as It Sounds: A B&O Sound System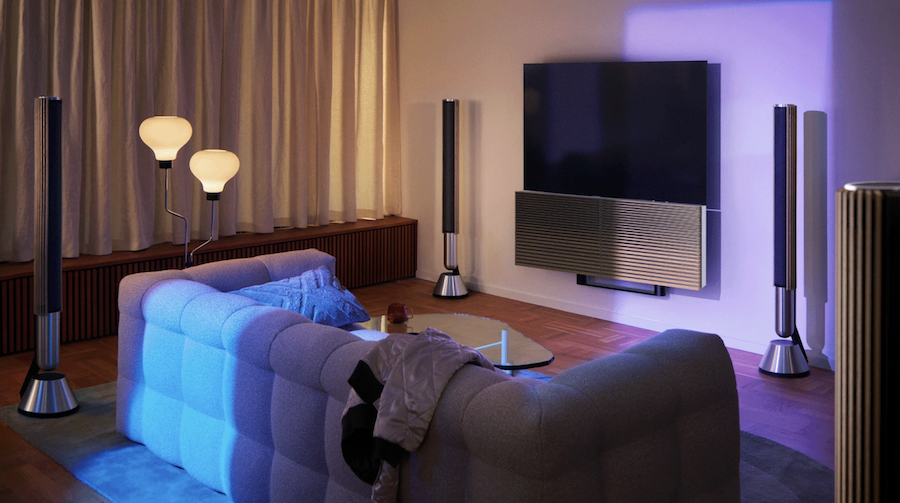 Speakers That Move & Glide into Position
If you have an eye for interior design, you probably don't want clunky gray or black boxes interfering with your home's appearance.
That's why we love the audio manufacturer Bang & Olufsen. The company designs speakers with aesthetics in mind, resulting in stunning devices that blend into your home's interiors.
Dedicated audiophiles and casual music lovers in Parkland, FL, can now find B&O sound systems at First Priority Audio. Our new partnership with the brand means you can "test drive" these three audio products in our showroom. See how they'll suit different areas of your home!
SEE ALSO: My Room Has Floor-to-Ceiling Windows. How Do I Install a TV?
A Soundbar for Any TV: The Beosound Theater
The Beosound Theater not only delights the ears but your eyes as well. B&O's soundbar includes twelve audio drivers to direct sound above, below, and to the sides, creating a spatial audio field that most TV soundbars can't achieve. And the cabinet's solid oak or fabric covers offer a classy, timeless addition to any living room, media room, or home theater.
You won't find any clunky black boxes or cables cluttering your space with the Beosound Theater. Mount it on the wall or the floor, and it integrates with any TV model. The Beosound Theater also streams your favorite music platforms like Spotify and Apple so that you can use the system for more than movies and TV.
Stereo Speakers to Impress: The Beolab 28
For a little more power, Bang & Olufsen's Beolab 28 is a pair of stereo speakers for your music system or home theater. Tall, slim, and handcrafted with a light oak and an aluminum stand, the Beolab 28 suits any room interior. Press play, and the oak panels automatically open to reveal an inner cover, ready to play every intricate detail and rumbling bass note in music or movies.
If you have another color palette in mind, the Beolab 28 can be customized to your imagination. Just talk to a Bang & Olufsen dealer like our team at First Priority Audio!
TV & Speaker Package: The Beovision Harmony
Is your home entertainment due for an audio and video upgrade? The Beovision Harmony is a package like we've never seen. With a press of a button, the eye-catching oak covering will glide and move as a slim OLED TV slides into place. You'll enjoy dazzling picture quality and high-end audio, all-in-one. When it's not in use, the TV will slide in a choreographed motion behind the oak panel again, enhancing your interior design.
Experience Bang & Olufsen in Person
Bang & Olufsen's luxury audio products can only be found with certified dealers, and we're proud to now offer B&O audio at our South Florida storefront. Visit First Priority Audio or contact us to see (and hear) these incredible speakers for yourself!