Meet Control4's New Halo Smart Home Remote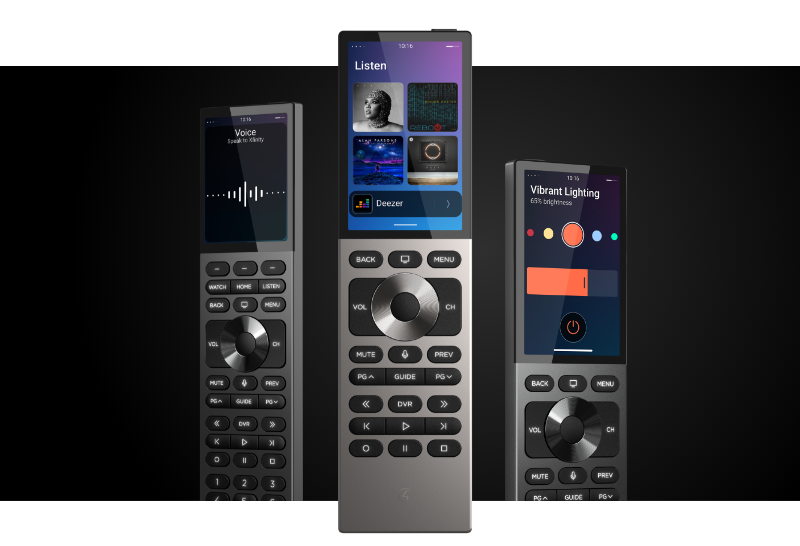 Better Lighting Control, Stronger Wi-Fi Connections, & More Upgrades
While the Control4 app is ultra-intelligent and voice control is handy, sometimes the most intuitive way to control your home technologies is through a remote—especially in the living room or home theater.
We've historically been huge fans of Control4's Neeo remote, which innovatively combined hard buttons with a touch screen. But the smart home brand is ever-evolving, and Control4 has just released a new line of Halo remotes.
What does Halo do differently? Below, we share all its new features that we're most excited about. And to see Halo remotes in action, visit First Priority Audio's showroom in the Lighthouse Point, FL area.
SEE ALSO: Introducing Control4's New Contemporary Lighting Line
New Look
The new Halo remote line offers two models: the Halo and Halo Touch. The Halo has a slightly smaller touch screen than the Halo Touch, and the Touch is available in black or silver. Both include all-new back-lit buttons, which make navigation easier in the dark. The new graphical interface is more intuitive to explore, and users can customize programmable text above custom buttons.
Better Performance
The Halo remotes include dual-band Wi-Fi that now supports 2.4 GHz and 5 GHz networks so that connectivity will be much more reliable. In fact, the Halo's Wi-Fi connection is five times stronger than the Neeo remote. It also has an enhanced battery life, so you can use the remote on the go for longer.
Updated Voice Control
The Halo remote's new push-to-talk voice button instantly sends voice commands to the proper voice service, connecting you to the right streaming platform or smart home device. Voice is also now compatible with Xfinity and Apple TV, with services with Josh.ai in the near future.
Smarter Home Control
Previously, if you wanted to adjust the brightness or color of your lights, you'd have to open the Control4 app. But the Halo remote has improved its lighting control capabilities, now including full-color customization. So if you're hosting friends and choosing a playlist for your speakers, you can dim the lights and set them to a warm hue from the same remote.
Control4 users can also access all their home automations and customized scenes from the Halo remote. So whether that's setting the room's thermostat, window shades, or lights, you can carry out the same commands you would on a wall keypad or the app.
Smart home control just got a lot more intuitive with the Halo remote! If you'd like to learn more about the Halo remote line and see smart technology in action, visit First Priority Audio in South Florida or contact us to learn more about our services.
\We look forward to working with you!