More Audio, Less Clutter with Hidden Sound Bars & Speakers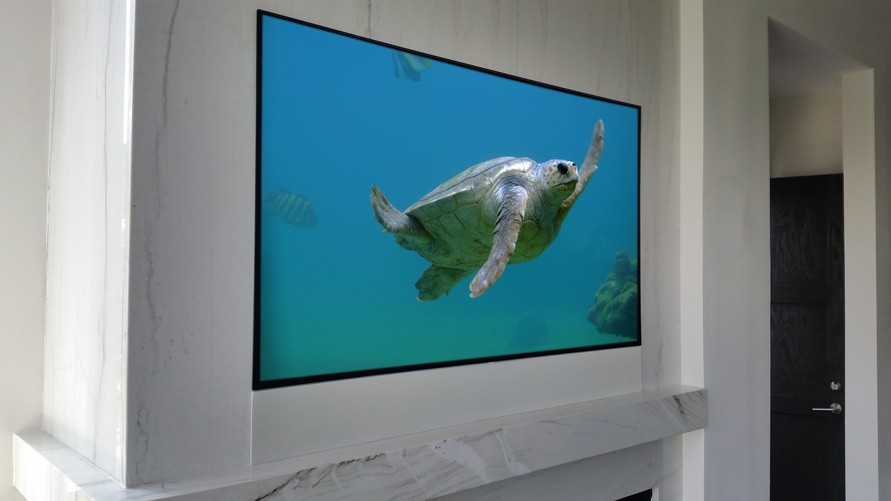 Build a Surround Sound System Without the Bulk
Do you want a new speaker system, but aren't sure where you'll put all the equipment?
Surround sound systems are entirely worth it if you want better audio for your movie and music enjoyment. Built-in TV speakers simply can't compare to a multi-speaker setup or external soundbar. But if you're wary of adding clutter to your Palm Beach, FL, house, or aren't sure where you'd fit it all, let us introduce you to hidden audio.
From hidden sound bars to loudspeakers and subwoofers, we can install audio seamlessly within your house's walls or ceilings. We can help build a system for your needs—here are your options!
SEE ALSO: Hidden Technology: How to Stylishly Hide Equipment Behind Your TV
Hidden Sound Bars
Soundbars are typically installed below flatscreen TVs or projector screens to add extra power to TV audio. While sound bars are already quite slim and compact, if you're using an OLED screen mounted incredibly flat against the wall, a sound bar may noticeably protrude below it. If you're especially conscious about interior design, a clunky sound bar may distract from the rest of the room.
To install hidden sound bars, we measure the speaker's dimensions to fit it seamlessly into the wall. If you're undergoing a new home build or renovation, it's the perfect chance to wire the soundbar to power and your media system. If your walls are already finished, we can wire the speaker to power only, wirelessly connecting it to the rest of your home theater system.
All that will be visible is a flat grille that blends into your wall's color or finishes. Audio will sound as strong as ever with less of a visible footprint.
Hidden & Invisible Speakers
Want to expand to a full surround sound system? We can also install loudspeakers within the walls and ceilings for a smooth, seamless appearance. All speakers will sync to play music or movie audio in a rich, immersive soundscape.
You can take hidden audio a step further with invisible audio completely concealed behind the wall. Rather than leave a visible speaker grille, the speaker is installed inside the wall and finished over with no trace of hardware whatsoever.
You may be wondering, but does invisible sound good? If installed correctly and with high-quality brands like Origin Acoustics or Sonance, invisible speakers perform beautifully in multi-speaker systems.
Hidden Subwoofers
Yes, even booming, bass-delivering subwoofers can be hidden within walls. Subwoofers are notorious for causing wall vibrations, which no one wants in a listening room or home theater. We use vibration-canceling models that play two woofers in opposite directions, thus canceling out vibrations. We install hidden subwoofers near floor level to deliver rich bass notes and low frequencies without shaking the walls.
Are you curious to learn more about hidden audio for your Palm Beach-area home? First Priority Audio installs and programs hidden AV systems that blend smoothly into home interiors. Contact us here to learn more about our services today!