The Film Industry Is Shifting in 2021. Here's How Home Theaters Benefit.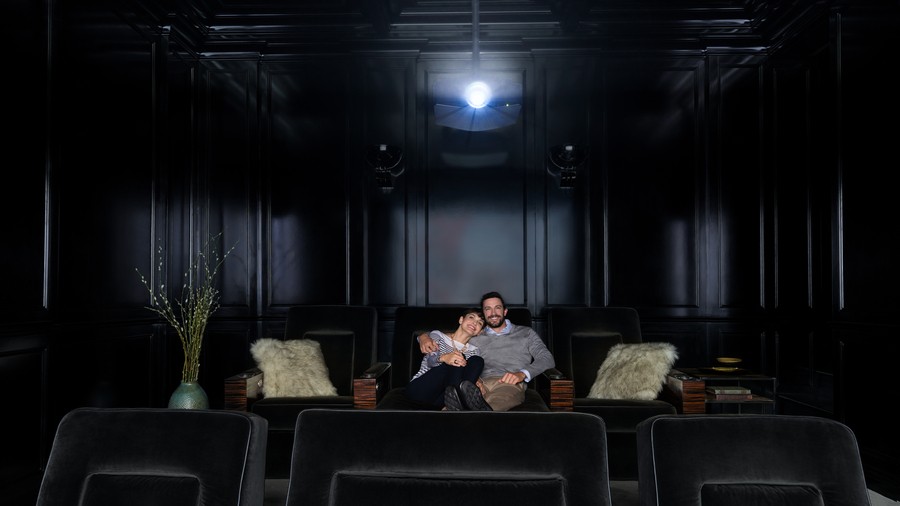 Make the Most of Your Private Cinema with On-Demand and Streaming
When is the last time you went to the movie theater? If you're like many people, it's been a year since you've seen a flick at a local theater. Since the pandemic began, ticket sales have fallen 80%, with only 2.28 billion tickets sold in 2020 compared to 11 billion tickets in 2019.
As movie theaters remained shuttered or at limited capacity, studios are altering the ways movies are released.We predict the shift to at-home entertainment will stick around even as theaters open again in the future. With new on-demand and streaming options (and in stunning 4K), you can bring a night at the movies to your home.
There's never been a better time than now to own a private cinema. With larger-than-life visuals and sound, you'll immerse yourself in ways only a theater can provide. While the rest of the world misses trips to the movies, homeowners with private theaters enjoy brand-new films in style.
Whether you already own a home theater or are just getting started, we'll share how to make the most of it with new movies below. As a home theater installer based in Palm Beach, FL, we like to help our clients enjoy their entertainment systems to the fullest.Find your options below!
SEE ALSO: Transform Your Movie & Gaming Experience with Dolby Atmos
More
Video
On-D
emand
On-demand and streaming increased dramatically in the past year, and more age groups joined the streaming gameas it became widely adopted by those 55 and up. New platforms like HBO Max, Disney+, and Quibi launched, bringing new and old movies to more living rooms and home theaters.
New
Shortened
R
elease
W
indow
s
Theater chains previously refused to screen films that didn't have an exclusive run incinemas before moving on to video-on-demand streaming. As part of this deal, movie studios used to wait 90 days after showing a film in theaters to be available to rent or own. Now, that window has shortened from 90 to 17 days in an agreement between Universal and AMC. New Universal and Focus Features films will be available on premium on-demand after only 17 daysso that you can host new movie premiers in your private cinema.
New Movies Straight to Streaming
Another Hollywood studio made a big announcement this year: Warner Bros. plans to release all their 2021 movies both in theaters and on HBO Max. That's 17 films HBO Max users will have instant access to, including the next Conjuring film, a Suicide Squad sequel, and the highly anticipated Dune.
There's one caveat: each movie will air on HBO Max for only one month before it leaves the service, heading out to iTunes, Blu-ray, and eventually cycling back to HBO Max. Is this instant-to-streaming model permanent? Toby Emmerich, chairman of the Warner Bros. Pictures Group, shared, "We have to see what happens next." Disney has the same idea as Warner Bros., releasing their new movies instantly on the Disney+ streaming platform.
Weekly Blockbusters on Netflix
Netflix has ambitious plans for 2021. Every week, it will debut an all-newmovie—so you'll never run out of exciting new films to show at home. This includes the new action-comedy Red Notice with Dwayne "The Rock" Johnson, Ryan Reynolds, and Gal Gadot. We'll also see Don't Look Up, starring Jennifer Lawrence, Leonardo DiCaprio, Ariana Grande, Timothée Chalamet, and Meryl Streep—all from the comfort of your home cinema.
More Content Available
in 4K
4K movies used to be hard to find, but streaming services are finally catching up with home theater-quality visuals. Warner Bros. movies on HBO Max will be available in 4K, including the new Wonder Woman 1984. All original series on Netflix are now shot in 4K, with some in HDR and Dolby Vision. Netflix is also adding original movies and nature documentaries in 4K.
Hulu is expanding to 4K with their original programs, bringing more 4K movies onto the platform too. Disney+ offers many shows in 4K Ultra HD like The Mandalorian, WandaVision, and even old favorites. If you rent or purchase new movies from iTunes, 4K films are luckily the same price as HD.
Are you looking to amplify your home entertainment in South Florida? Contact First Priority Audio here or sign up for our free monthly newsletter to learn more about home theaters, surround sound, and smart controls.