Tips to Craft the Perfect Home Movie Theater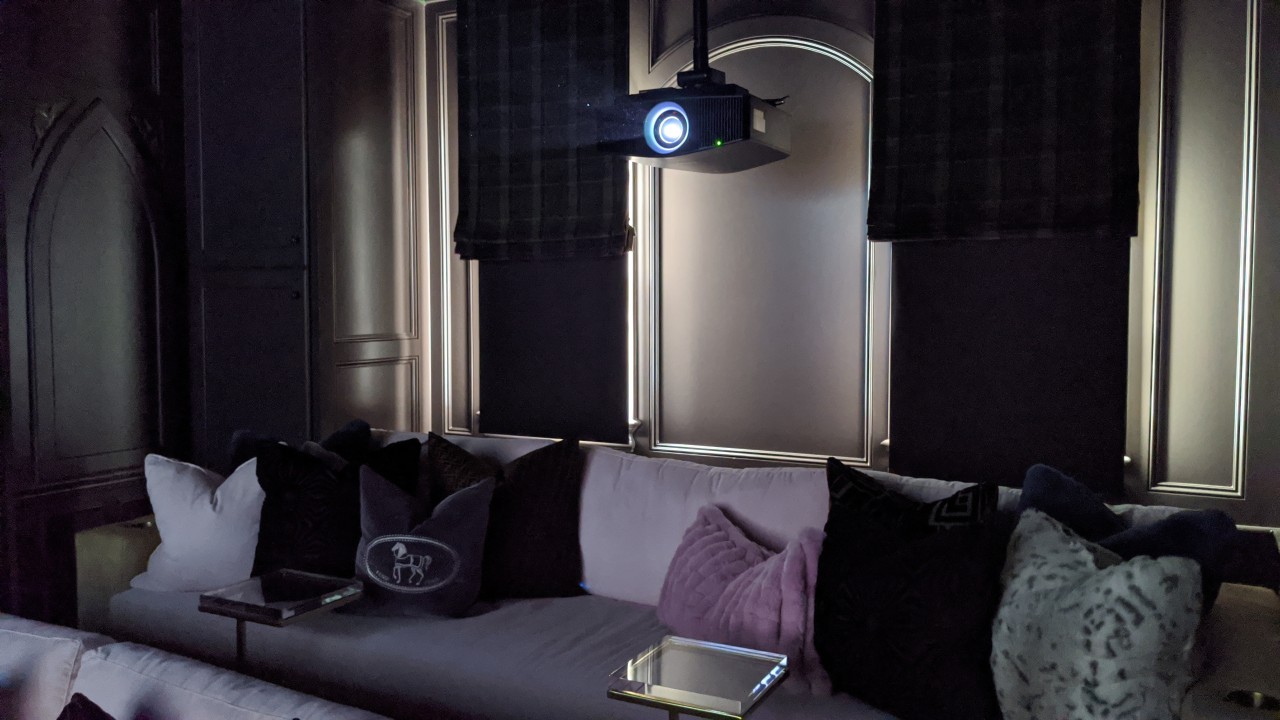 Find the Screen, Lights, and Speakers Right for Your Space
Music montages. Torch-lit sword fights. First kisses. And a zombie around the corner. Whatever movie genre is your favorite, a home theater takes the act of watching from a passive activity to an active immersion, where you become a part of the story. 
If you're considering building a home movie theater, you may have several questions. What sort of screen is best for the room's dimensions? What do you need for audio? 
As home movie theater experts in Fort Lauderdale, FL, we'll share our technology and equipment advice below.
SEE ALSO: 3 Lesser-Known Benefits of Smart Blinds
Large Screen vs. Projector
Today's LED, OLED, and 4K screens can get so large (up to 98" with the Sony MASTER Series) that a TV display can work beautifully as a home theater centerpiece. People often worry that projectors look washed out in rooms with ambient light. 4K TVs indeed offer deeper blacks and bold colors, but new ambient light-rejecting projector screens avoid fading and glare, too.
Most installations are traditionally arranged with a projector mounted on a ceiling or wall behind seats. But if you don't have space or if your ceiling is too steep, a short-throw projector is placed just a few feet away from the wall. Sony's laser-based model creates striking images while preventing shadows of people or objects from entering the frame. You will need a specialty screen designed to work with short throw projectors that absorbs light from below. 
Choosing the Right Aspect Ratio
What is aspect ratio, you might ask? Aspect ratio is the relation of your screen's width to height—essentially, the rectangle's shape on screen. Flat screens use the 16:9 aspect ratio (also known as 1.7:1), which means the image is 16 units wide for every nine units high. This is what you're already accustomed to seeing with traditional televisions. 
With a projector, you also have the option of 2.4:1, which is the  current widescreen cinema ratio standard that you'd experience at a movie theater. But since filmmakers and TV producers are always shooting in whatever aspect ratio they'd like, you may sometimes end up with black bars at the top and bottom of certain material. Some people love the cinematic sensation of the screen opening super wide to 2.4:1. Others would rather take advantage of a taller display and use a 16:9 ratio. You're the director in your home movie theater, so the choice is yours! 
Smart Control of Lights
You know this moment at the theater—the film starts after the trailers conclude, and lights slowly diminish to black. It sends chills up our arms, and anticipation is palpable in the air. You can have magical lighting moments in your theater, too. Pathway lights, overhead bulbs, and motorized shades can be controlled in unison from a smart system. With a custom scene like 'Movie Time,' the room's ambiance will transition in an instant.
Dolby Atmos Surround Sound
You've heard of surround sound speakers, but Dolby Atmos takes audio further into new dimensions. With Atmos upward-firing speakers, sound can bounce through over 128 points in an audio field, rather than emanate from one specific sound channel. Audio now moves like a real object throughout the room, resulting in mind-blowing immersion.
Want to Learn More About Streaming Solutions?
First Priority Audio is hosting a free Facebook Live event on Thursday, July 23 at 630pm EST. We'll demonstrate all we know about streaming solutions and how you can make the most of streaming in your home theater or media room. RSVP on Facebook here to be reminded the day of the event!
For more on home theaters and upgrading your home entertainment, contact First Priority Audio.