From 8K Television to Hidden TVs, Discover These Creative Viewing Options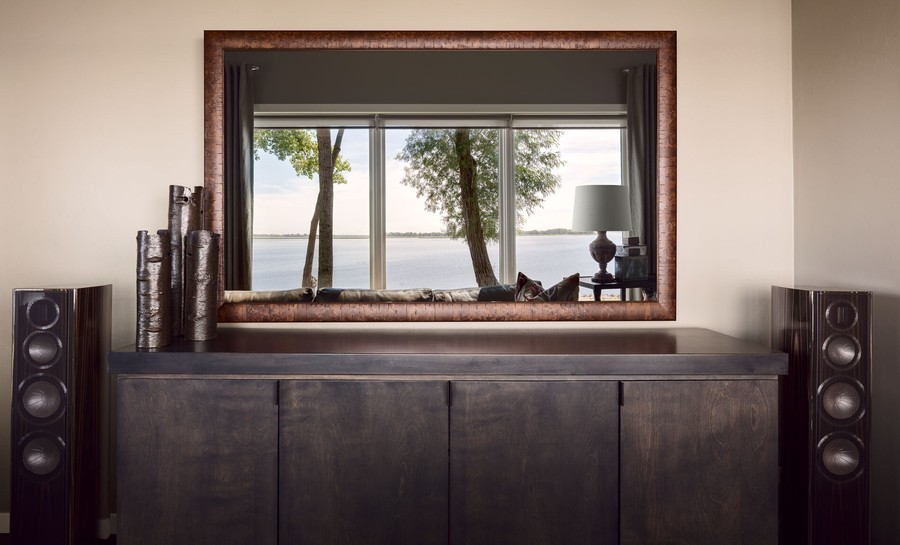 Displays for Every Room of the House
Most of us are accustomed to a standard flat screen mounted on the wall or a stand in our living rooms. While that works fine enough, recent advancements in picture quality, screen options, and hidden technology have transformed the way homeowners can appreciate their favorite movies, shows, and video games.
Depending on each room you're in, you can enhance the entertainment experience with a new technology. From an 8K television that connects to streaming services to large multi-screen displays, explore it all to find the right fit for your Palm Beach, FL, home.
SEE ALSO: How A Better Home Network Makes Cord-Cutting Easier
In the Living Room: 4K, 8K, and Surround Sound
If you're ready to upgrade your family room entertainment, ask yourself: Is it time for 4K or 8K definition? 4K screens offer twice the number of pixels that standard 1080p does. With deeper blacks and more vibrant colors, images are more stunning than ever. A jump up from 4K brings us to 8K, the highest standard available today. 8K has a resolution of 7,680 pixels by 4,320 and about 33 million pixels — giving us a display eight times clearer than standard definition!
What will you watch on your 4K TV? Let's say an '80s movie comes to mind. Will you be able to quickly find it to stream? With a reliable home network and smart 4K TV or streaming media player, you'll have access to Netflix, Hulu, HBO, and more in one command. Search across many services to find the exact film you're looking for.
8K displays require much more bandwidth than HD or 4K and will need HDMI 2.1 cables. However, 8K content is not yet widely available, not in streaming or on Blu-ray or DVD. But while content is not readily available, 8K displays make up the best technology available from TV manufacturers. So why invest in technology that's already been bested?
And for audio? Surround sound isn't limited to a home theater. Create a full cinematic experience with two front speakers, two rear speakers, a center channel speaker, and a subwoofer for low sound frequencies. Don't have the space for floor standing speakers? Go minimalist with hidden in-wall and in-ceiling devices that deliver robust, lifelike sound.
In the Media Room: Gather & Entertain
We tend to think of media enjoyment as either a small screen in the living room or a big screen in the theater. But what if you want a multipurpose space to watch the game with friends, enjoy cocktails, play games, and then transition into movie night? 
You can bring the atmosphere of a sports bar or lounge to your home with multi-screen LED panels or large screen formats—up to 85 inches and beyond! Use the room any way you'd like; in the dark to screen a movie, or with ambient lights, snacks, and a surround sound music. If nightlife spots are closed, no matter—your Palm Beach home has it all.
In the Bedroom: Hidden Technology
Sometimes you want to enjoy a little late-night TV in bed. But other times, you want your bedroom to feel like a relaxing escape from technology and the outside world. That's where we suggest hidden TVs.
There are several ways to blend a screen into your interior décor. Art TVs appear like a real framed painting when turned off, and mirror TVs shift into a functional mirror when not in use—like magic! Another option is to use TV lifts, which will lower the screen from the ceiling after a press of a button or voice command. 
A Word from First Priority Audio
Inspired for your home's entertainment? In our next blog, we'll focus on the ins and outs of home theaters.
If you're interested in any of the technology mentioned, contact First Priority Audio in Palm Beach, FL, to get started on your setup today.